The AmigaMCC
Wasted Opportunity or Waste of Space?
On the 16th July 1999, a Technology Brief - outlining major disclosable concepts behind the AmigaMCC (Multimedia Convergence Computer) was released on Amiga's Inc's website alongside pictures of the MCC's case design.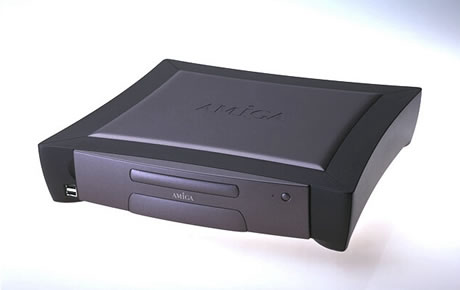 It was widely rumoured that the "Next generation CPU" mentioned in this brief was to be Transmeta's Crusoe Processor with it's unique 'code-morphing' architecture. This coupled with a next generation ATI Graphics Chipset and the AmigaMCC would certainly be a desirable machine.
As for the design - black has a long history in computer case design as being unsuccessful. Fuitsui's PCTV and Amiga's own CDTV for example. I like the actual MCC, but the additional monitor looks bulky and in many respects dated. If Amiga wanted to get peoples attention it should perhaps follow the lead of Apple and it's iMac by designing something truly revolutionary and different.
Having heard Jim Collas' speech at WOA '99, Amiga was looking to home networking with the central MCC connected to other smaller devices throughout the home. I feel more could be made of this in the design. Instead of your traditional CRT display, a LCD flat panel coupled with the DVD drive, would encourage the separation of the two units in the home and spur on the addition of further devices to the system.
The AmigaMCC - Full Specification
Processing Subsystem
High-performance next generation CPU
Hardware assist for Linux Kernel, Java VM, and classic Amiga Emulation
168-pin SDRAM DIMMs - future support for DDR SDRAM
Graphics Subsystem
Advanced SuperScalar rendering 2D and 3D hardware accelerator (unannounced next-generation ATI chipset - specs still under nondisclosure)
24-bit true colour depth/pixel supporting 640x480 to 1920x1200 resolutions
32MB 128-bit SDRAM frame buffer
Audio/Video
DVD drive standard (DVD-RAM when available)
DVD playback including:

MPEG-2 hardware decode acceleration: motion compensation and iDCT
Hardware subpicture decoder with interpolating scalar and alpha compositor

Real-time video compression including MPEG-2
Still image capture acceleration
Analogue TV: NTSC/PAL/SECAM input, digitisation and TV outputs
S-Video and composite video I/O
Full channel TV tuner
44kHz, 16-bit CD stereo audio I/O
AC-3 Dolby Digital 5.1 channel decode
S/PDIF Dolby Digital output
FM radio tuner under consideration
Communication Options (In Development):
V.90 56Kb/s modem
100/10Mb/s Ethernet
HomePNA 2.0 10Mb/s home networking
Wireless 2.4GHz digital networking
Broadband Internet options:

1.5MB/s cable modem
DSL modem
ISDN modem
Digital satellite decoders
Mass Storage:
Two E-IDE UltraDMA interfaces (support for four drives)
Support two high capacity hard drives (ATX user configurations could support more)
I/O:
Infrared for remote control devices
Microphone input
Display touch screen controller
7 Universal Serial Bus 'USB' 10Mb/s digital ports (2 in front for easy access)
Investigating 1394 option
The Amiga MCC
Previous site content, written shortly after this Technology Brief was released to the public.
Article in Context
Although promising, the AmigaMCC became nothing more than an industrial design prototype. At the time of this announcement, Amiga was owned by Gateway, but had been brought, sold and licenced to the point of confusion, and the Amiga and it's community was enduring a slow but painful death.
Whilst the release of this Technology Brief brought a rare moment of hope, two months later Jim Collas resigned, Amiga announced it was to concentrate on software development and Amiga continued on its downward spiral to obscurity.
Further Information
See where the AmigaMMC fits into the eventual demise of Amiga.